! Telcomp Caller ID ANI software dialing dialling DataSource Data Source ->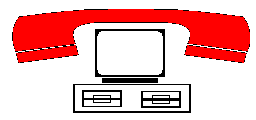 Telcomp, Inc.
P O Drawer 2065
Apopka, FL 32704

407 - 889 - 7377 (voice)
407 - 880 - 2543 (FAX)

---
Here are some of the questions we're asked most often about CALLER ID.
---
Q. What type of telephone service do I need for Caller ID?

A. Plain Old Telephone Service (POTS) sometimes called TIP and RING. - This can include single residential or business service, and multiple lines referred to as rotor or hunt group service. CALLER ID is also available on digital telephone lines known as BRI and PRI circuits. BRI and PRI are different types of ISDN (Integrated Services Digital Network) circuits.

On analog lines Caller ID is sent in a Bell 202 modem format between the first and second ring of the call. So, in order for Caller ID to work properly on analog lines, you must wait until the second ring before answering the call. On BRI and PRI the Caller ID information is sent on a seperate data channel prior to the start of the ringing.

A hardware device is required to receive the Caller ID signal and display the information and/or pass it to the computer. Most phone systems offer hardware options for receiving the Caller ID signal on both analog and digital lines. Analog Caller ID Display devices can generally be purchased from your Local Telephone Company, from a telephone store, or from discount retailers. Prices and features vary widely between manufacturers and models. TELCOMP offers its PC-CLID CALLER ID Units and software to capture the ANALOG Caller ID information for your computer.


Q. What numbers will I be able to receive?

A. You should receive those numbers on calls that originate in the US and Canada. Calls from Cell phones may be marked as OUT OF AREA. You may also receive a PRIVATE indication, signifying that the caller has blocked their number from being delivered to you.



Q. What about Blocking?

A. By pressing *67 before placing a call, the Calling Party can prevent their number from being delivered to the Called Party. In about half of the states, an option for line blocking has also been implemented, so that calls from a given line will always deliver a PRIVATE or BLOCKED indication. If line blocking is in use, pressing a *82 prior to placing the call will implement a per call unblock. In some states the line blocking option may be a chargeable option similar to an unlisted number. The Blocking feature is not available when calling an 800 or 900 number.


Q. Can I get the name delivered along with the number?

A. Check with your Local Telephone Company to see if they offer this service. It may cost more that the number only service. Not all phone systems will work with Caller ID Name Delivery.

Q. What will Caller ID cost for my business?

A. While tarrifs vary from state to state, it will generally cost between $7.50 to $10.00 per line per month. These are the monthly charges from your Local Telephone Company. There will also be purchase or lease costs associated with the Caller ID device(s) used to capture and display the Caller ID information. TELCOMP offers a wide variety of Caller ID decoders.


For any other questions regarding Caller ID or to discuss connecting your personal computer with your telephone service. Please contact us.



---
Back to the Telcomp, Inc. Home Page
Please call or e-mail us for more information.
---
Telcomp, Inc.

407 - 889 - 7377
---
Copyright &copy 1996-2011 Telcomp, Inc.

---